In the Footsteps of Newton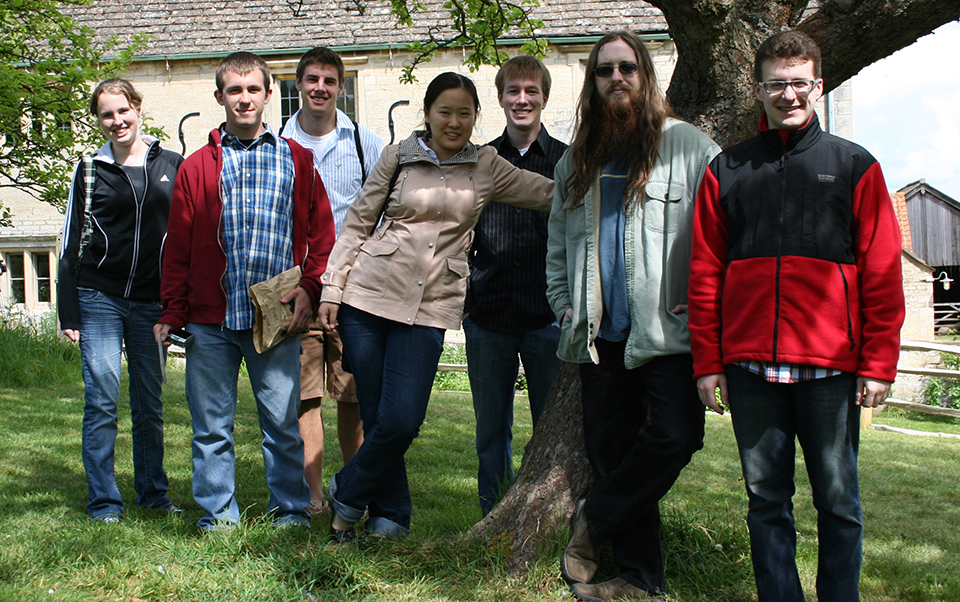 Hanover students standing by the famed apple tree beneath Newton's bedroom window
where he looked up at the stars at night and made the connection between the two.
Learn fascinating insights on Newton while taking a historic tour of England.
PBS Premiere
WFYI - Indianapolis, IN
January 30, 2014, 7:30 pm
Screenings
KY MAA Spring Meeting
Transylvania University, Lexington, KY
BSC 120, 8:45 pm, April 5, 2013
Utopia Film Festival
Greenbelt, Maryland
October 20, 2012
MathFest, national meeting of the
Mathematical Association of America
Madison, Wisconsin, August 2, 2012
Hanover College, Hanover, Indiana
May 22, 2012
Ohio Theater, Madison, Indiana
May 11, 2012
---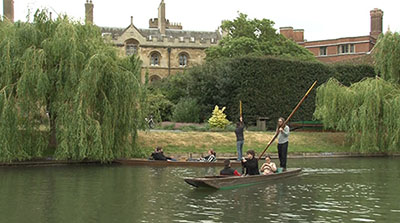 In the Footsteps of Newton follows the inspirational journey of a group of Hanover students as they go on a quest to learn about one of the most famous people in history, Sir Isaac Newton. They follow in his footsteps, from his early life on the farm at Woolsthorpe Manor, to his student days in Grantham and academic life in Cambridge, to his final years in London. Each step of the way, they experience the dramatic change in Newton's life.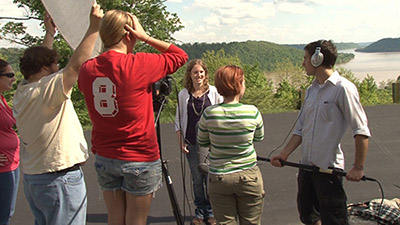 The documentary is the project of two Hanover professors and filmed by Hanover students studying documentary production. The students in Elizabeth Winters' video class focused on the life changing experiences of the students in Nancy Rodgers' math history class as they follow Newton's life journey in England. Both courses were part of Hanover's Study Abroad program.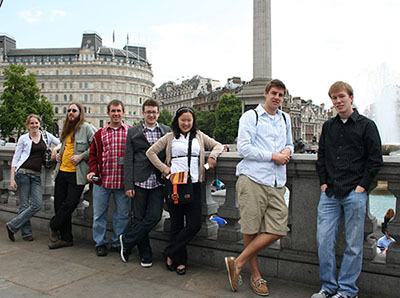 The students in Rodgers' class have a combination of interests and double majors with math that connect heavily with Newton's wide range of interests. Their varied backgrounds, interests, and youthful enthusiasm give the documentary a unique type of appeal that is very different from traditional documentaries where established experts expound on a topic.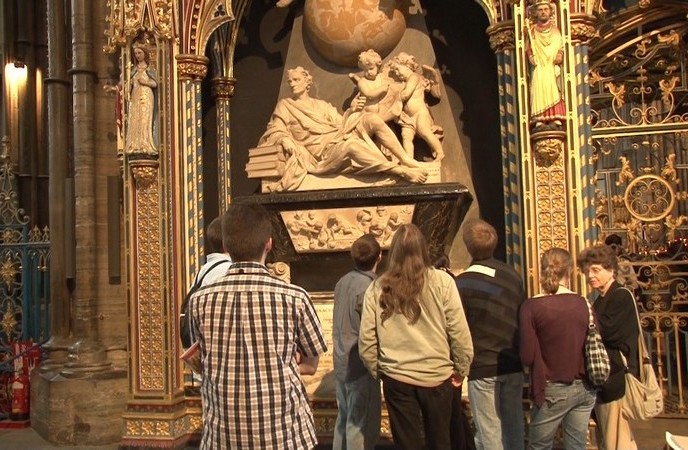 They obtained permission to film inside national historic sites in England, including Newton's childhood home and church in Colsterworth, his school and church as a teenager in Grantham, inside the gates of Trinity College where he lived for 35 years as a student and professor, the Round Church across the street from where he lived, the British Museum, and Newton's final resting place inside Westminster Abbey.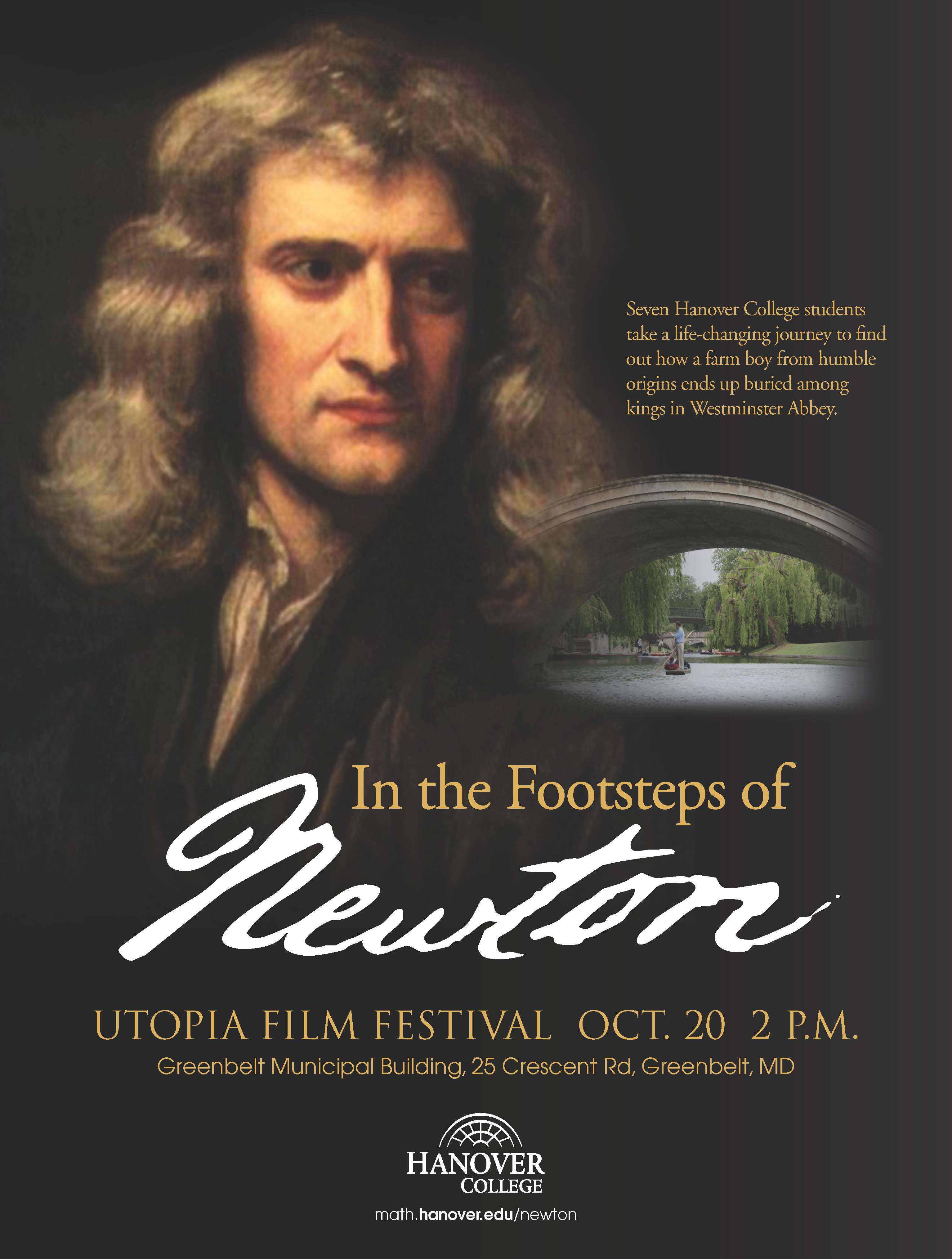 Comments from Audience Response Survey
"Fascinating. The theme of a normal person achieving extraordinary results through immense effort is clear - perhaps it can inspire a handful from this and future generations." - Curtis Herink, Professor of Mathematics, Mercer University, Macon, GA
"As an avid lover of documentaries, I have been involved in numerous aspects of making and promoting this genre of films. I served as a Producer/Director/Script Writer for NASA from 1980 to early 2005. I also chaired juries of national documentary film festivals. This autumn I was thrilled to see "In the Footsteps of Newton" at the Utopia Film Festival. From the viewpoint of a Documentary Maker, the film impressed me in numerous facets. The filming was outstanding ~~10-star ~~ and the story line kept my attention throughout the film. To say that I gained a much greater appreciation for Issac Newton, because of your wonderful film is an understatement." - Judith Grady Hamburg, Seabrook. MD
"I think the video was great. I did a report on Isaac Newton. It was fun to see everywhere he went and see where he lived and worked. His experiments were fun to hear about. That's why I recommend this video to people my age as well as anyone else. The experiments he did remind me of experiments I want to do with my own toys."  
- Isaac Bates, 6th Grader, Pope John XXIII Elementary, Madison, IN
"Very inspiring! I'd love to show this in school. Who knows - maybe even take a similar tour sometime. Thanks for the production!"
- Clint Chan, Lynnwood High School, Bothell, WA
"You have done such amazing work with In the Footsteps of Newton! And you could tell from the loud applause at the end of the film that hundreds and hundreds of people felt the same way. So many, many thanks. You made this viewer feel like part of the experience.  
- John Martin, Art History Professor, Hanover College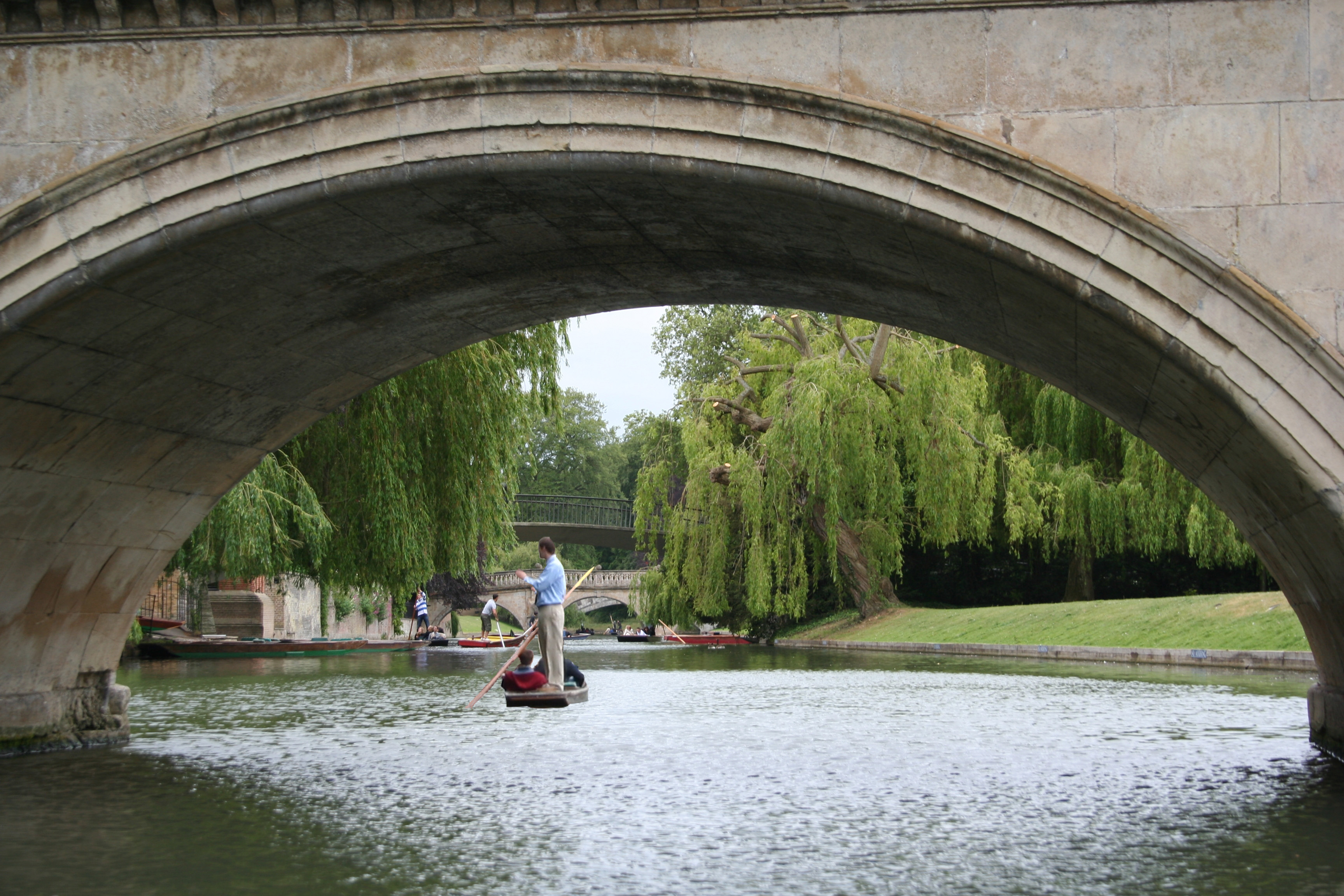 "I thoroughly enjoyed it and am looking forward to duplicating the pilgrimage soon. I once saw Cambridge briefly, 40 years ago, and your film brought back lovely memories. I liked the interesting material on the role of religion in his life - something I hadn't been so aware of, and the film images showed the power of religious beliefs at the time. Beautiful job, cute and appealing young women and men!"    - Bruce Murrie, retired program/management analyst at the U.S. Department of Education
"Great promotion for travel and incentive for young people to travel with an academic purpose. Thanks for creating the document! It was fun to travel with you."     - Cynthia Chin, Madison East High School, Madison, WI
"This film is extraordinary for a number of reasons:
1) it is one of the best demonstrations of crossing the boundaries of academic disciplines I have ever seen;
2) it clearly shows the value of experiential education, something that is finally mushrooming around the country;
3) it has multiple learning cycles in one experience by having some students produce the film, others research the content of the film,
and still others share their learning with the audience, which certainly has been done before, but never quite so successfully.
Finally, the film is simply a joy to watch."  - Sue DeWine, President of Hanover College, author of 60 communication related books.
Thank you for your interest in our film! If you know anyone who would like to post a comment, please let us know. One of our goals in making this film was to motivate younger students to be more like Newton and get obsessed with something deeper than video games. We can't sell the DVDs because of our permission agreements to film at the historic sites in England, but we do have a limited number of DVDs to give to educators. If you have any contacts that might be able to help us expand the outreach of our video, please let us know.
Produced by Nancy Rodgers and Elizabeth Winters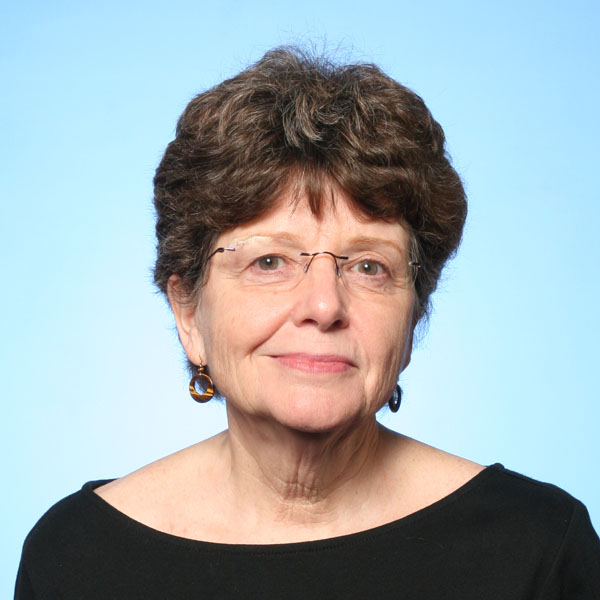 Professor Nancy Rodgers is professor of Mathematics at Hanover College.
John Wiley & Sons published her book, Learning to Reason: An Introduction to Logic, Sets, and Relations. The game space she designed for it received a Merit Award from the Society for Technical Communications: learningtoreason.com. She developed a software program for her book, An Introduction to Algebraic Structures: GroupsUnlimited.net. She won an Aegis Award as co-producer of the documentary, William Blake: Inspiration and Vision. Before Hanover, she worked for an international software company in Sweden and England and taught at Kent State University for ten years.
contact:  rodgers@hanover.edu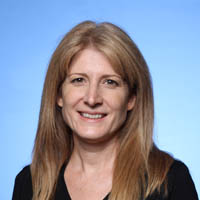 Professor Elizabeth Winters is General Manager of the HCTV and a member of the Hanover Communication Department in charge of video production and broadcast journalism courses.
Prior to coming to Hanover College, she worked for eight years as a documentary producer for Florida Public Television and then as senior producer at the Florida Channel. Her awards include The Florida Bar Awards Grand Prize for Television for "Alarmed and Dangerous," a Wolfson Media Center Film and Video Awards Honorable mention for "The Changing Face of AIDS"and a Sunshine State Video 2nd Place Award for "Below the Surface". Recently, she has produced a variety of magazine, news and documentary programs for the college cable channel, including For Our Country: The Story of the Jefferson Proving Ground.
contact:  winters@hanover.edu